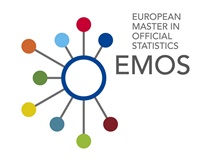 The European Master in Official Statistics (EMOS)
was launched by Eurostat and the European Statistical System (ESS) in 2014 to connect producers of official statistics and academia at European level. As a joint project of universities and data producers, EMOS aims at including official statistics in statistical curricula, meeting training and recruitment needs in the ESS and constituting a future recruitment pool of highly educated professional statisticians for the ESS and the European System of Central Banks (ESCB).
EMOS is a label awarded by the European Statistical System Committee (ESSC) for four years, renewable upon continued fulfilment of EMOS requirements. In the EMOS governance structure ESSC is the highest decision making body awarding the EMOS label to the Master programmes and appointing members to the EMOS Board. The Board assists the ESSC in developing the project, especially in awarding the EMOS label and in quality monitoring of the EMOS Master programmes. The EMOS Board is chaired by Eurostat and consists of 14 members representing both universities and producers of official statistics.
The study programme
Master in Economic Analytics
–
specialization in Official Statistics
offered by Wrocław University of Economics has been awarded the EMOS label for years 2019-2023.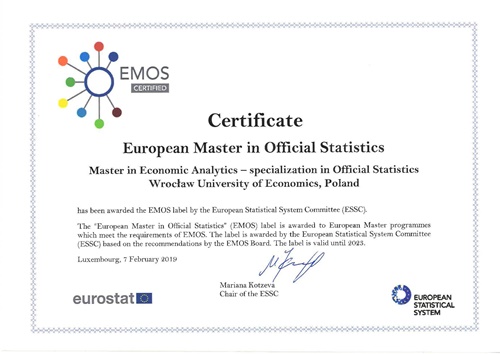 More information HERE…