Before arrival
If you want to take part in the Erasmus program at the WUE, first you need to contact the departmental Erasmus+ coordinator at your home institution. It will be checked if your university has an Erasmus+ exchange agreement with the WUE. If your university doesn't have a bilateral agreement with the WUE and you would like to apply independently, you can do so as a "Free mover" (more information below).
You have to be nominated by your home university to study at the WUE. Once we have received the nomination from your university, an email with confirmation and further instructions will be sent to each nominated student.
Letter of Acceptance
If you would like to receive an official Letter of Acceptance (for visa procedures or if required by your university), you need to fill in the form enclosed to the confirmation email and send it back to us via email (in Word format, not as a pdf file). We will send it to you duly signed and stamped.
Registration
Our University has a dedicated platform for exchange students, at
https://irk2-bwz.ue.wroc.pl/
. After receiving instructions from us, you proceed with the registration process using the platform. For registration purposes you need to fill in your personal data and create the following documents:
Application form - this document is generated automatically on the basis of the data entered by you.
Learning Agreement - this document is generated automatically on the basis of the courses selected by you.
In addition, during the registration process you have to upload a
Transcript of Records
provided by your university (a list of all subjects you have completed at your university before coming to Wrocław, drawn up in English and showing the number of awarded ECTS points) and
a copy of your ID document
. In the last step of the registration process you have to upload your
photo
for a student card.
For your Learning Agreement you can choose any subjects offered for exchange students. They include special Erasmus courses and regular Bachelor and Master courses. With the instruction for the registration process you will receive the lists of courses available for you. The current offer of courses available for Erasmus students at our university can be also found on
our University website
.
For the majority of offered courses a syllabus in English is provided. In case of any questions concerning the courses or your Learning Agreement, please contact
Tomasz Dyczkowski, PhD, our ECTS Coordinator
.
IMPORTANT NOTE:
Students are allowed to take courses for a total of
35 ECTS per semester as a maximum
!
---
APPLICATION PROCEDURE – FREE MOVERS (

)
If you would like to study as a free mover student, the procedure is the same as for regular Erasmus students. The only difference is that as a free mover student you have to pay a study fee of PLN 1,000 (approximately EUR 250) per semester. You should make that payment until the end of November, if you come to study for the winter semester and until the end of March, if you come to study for the spring semester. Free mover students do not have to be nominated by their home university. Please, make sure to indicate during the registration process that you come as a Free Mover student!
IMPORTANT NOTE:
The proof of payment has to be submitted to the International Cooperation Centre.
Account number:
PL 07 1090 2529 0000 0006 3400 0503
IBAN: PL07109025290000000634000503
SWIFT code: WBKPPLPP
Bank address:
Bank Zachodni WBK S.A.
17 Oddział we Wrocławiu
Plac Powstańców Śląskich 17/115
53-314 Wrocław Poland
University address (the recipient): 
Uniwersytet Ekonomiczny we Wrocławiu 
ul. Komandorska 118/120
53-345 Wrocław, Poland
Title of payment:
Your name and surname – Erasmus Free Mover.
Example: John Smith – Erasmus Free Mover  
After receiving all documents (all documents must be duly signed and stamped by a responsible person at your university) we will send you your
Learning Agreement
and
Letter of Acceptance
duly signed and stamped, so you can finish the procedure at your home university. 
All required documents should be sent by post to the International Cooperation Center of the Wrocław University of Economics (see General information) or, preferably, by email to
Małgorzata Mazurek
.
---
SELECTION OF COURSES IN THE UNIVERSITY SYSTEM – USOS
(

)
When you come to Wrocław, you will have an opportunity to take part in the Orientation Days. During these days you can attend a meeting during which you will receive some useful information and you will collect your student card. There will be a tour around the campus and a tour in the city. You will also receive passwords to be able to use our university system – USOS. After you get acquainted with timetables, you will make the final selection of your courses, which is done in the USOS system. You will receive instructions on how to read the timetables and how to enrol for courses in the USOS system. It may happen that it will be necessary to change your original learning agreement, because the courses you have selected overlap in the timetable or the number of students enrolled for a given course is too small.
---
VISA, PASSPORT
(

)
European Students
There are no longer any border controls at the borders between 26 EU countries. This is thanks to the Schengen rules which are part of the EU law. These rules abolished all internal border controls but put in place effective controls at the external borders of the EU and introduced a common visa policy. All EU countries are full Schengen members except for Bulgaria, Cyprus, Ireland, Romania and the United Kingdom. Iceland, Norway and Switzerland are also Schengen members , although they do not belong to the EU.
You need to present a valid passport or ID card when travelling to the five non-Schengen countries and when entering or leaving the EU at the external borders. You should have your passport or another ID document when travelling in the EU because they may be required for identification or security purposes. Please be aware that the only valid ID is the one obtained from your national authorities. 
EU students do not need a visa for travelling within the EU!
Non-European Students
Non-EU students will need a valid passport. If your visa is from a country fully applying the Schengen rules, it automatically allows you to travel to the other Schengen countries as well. Moreover, if you have a valid residence permit from one of those Schengen countries, it is equivalent to a visa. You may need a national visa to visit non Schengen countries. Border officials in the EU countries may ask for other supporting documents such as an invitation letter, proof of lodging, return or round-trip ticket.
You are allowed to travel around Europe (Schengen area) as long as your visa is valid. Additional documents are not required.
---
HEALTH INSURANCE
(

)
Medical insurance is obligatory for all foreign students.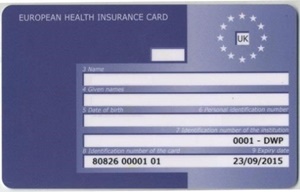 European Students
To be eligible for public medical services during your stay in Poland, it is necessary to bring your
European Health Insurance Card
.
Non-European Students
You must enquire in your country what type of insurance will be the best one during your stay in Poland. The most comfortable option will be the insurance which will allow you to get a refund for medical treatment. Please, make sure to settle the insurance matters. It is very important and it will protect you from incurring additional costs. If you do not have insurance, you will have to pay for a medical appointment – approximately PLN 70-100 (or more for consulting a specialist).
---
LANGUAGE REQUIREMENTS
(

)
The courses for exchange students are offered in English. You need to have good knowledge of the English language to participate actively in class discussions, follow lectures, prepare papers and presentations, take exams and interact socially with other students. If you have sufficient knowledge of the Polish language, you can choose among programs offered in Polish.
There is no official English language requirement for the Erasmus programme. However, students who do not have an adequate command of English (at least B2 level), will experience great difficulty in understanding lectures, producing written work and sitting examinations as well as taking part in the life of Wrocław. 
---
ACCOMMODATION
(

)
The Wrocław University of Economics provides accommodation for a limited number of Erasmus students in the University's dormitories "Ślężak" and "Przegubowiec". Both dormitories are situated within the campus, near to each other, and offer similar conditions. The buildings of both dormitories have been recently renewed and offer rooms for two or three students, shared bathrooms, a kitchen and a launderette on each floor. All rooms have free access to the Internet. Rooms are equipped with new furniture, washbasins and bedding. Students are asked to provide plates and cutlery on their own. There are also TV rooms in the dormitories.
DORMITORY "ŚLĘŻAK"
Address: ul. Ślężna 33, 53-301 Wrocław
All floors are divided into modules consisting of two rooms (one for two and the other for three students) with one bathroom for both rooms. Rooms are furnished (bed, table, wardrobe, chairs) and bedding is also provided. On each floor there is one kitchen which can be used by all students.






DORMITORY "PRZEGUBOWIEC"
Address: ul. Kamienna 35/37, 53-345 Wrocław 
Only double rooms are available. Each room has its own bathroom and small kitchen. Rooms are fully furnished and bedding is provided.

The rent is paid monthly, until the 10th day of each month. Upon your arrival you will be additionally charged a deposit. The deposit will cover your last full month in the dormitory or it will be refunded. Rent payments have to be done by means of bank transfer (you will get your personal account number for bank transfers upon your arrival). While making a bank transfer to the specified account, be sure to include your full name, your dorm number, and the month you are paying for. If you want to stay in the university's dormitory, you should mark this option during the registration process.
Please be aware of the fact that the number of places in the dormitories is limited
and we are not able to provide accommodation for all students, so the faster you complete your registration process the bigger is your chance to get a room.
You will be informed whether you have a room in the dormitory or not after 10th July if you are coming for the winter semester and after 10th December if you are coming for the spring semester.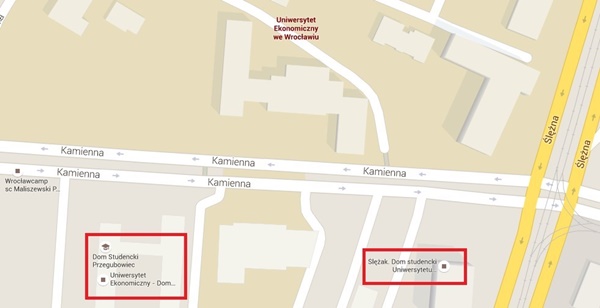 As mentioned above, the number of places in the dormitory is limited and we are not able to provide accommodation for all students. Should you wish to look for privately rented accommodation, please be aware that finding accommodation in Wrocław is not easy – do not wait until the last moment if you want to find an affordable room.
Please note that the International Cooperation Centre does not provide help in looking for private accommodation and students have to find a room on their own. However, you may be assisted by the student organization, ESN UE, or former Erasmus students may provide the information on accommodation in the area. We strongly recommend that you arrange your accommodation as soon as possible. Ads with accommodation offers are also placed on the noticeboards near the university.
IMPORTANT NOTE:
Unfortunately, we have been confronted with a rising number of accommodation frauds. Some people offer non-existing accommodation and hope for a prepayment. We advise you to be cautious. Do not send any money before you have seen the flat or met the landlord! 
Useful links
http://rentingzone.pl/
http://erasmusu.com/en/erasmus-wroclaw/student-housing
---
MENTOR PROGRAM
(

)
Would you like to meet your first Polish friend before your arrival in Wrocław?
Would you like to have some help during your time in Wrocław?
Would you like to have someone who could show you around?
Wrocław can be quite challenging when you arrive and especially when you do not speak Polish. And it can even be quite challenging to get to Wrocław too!
WHY SHOULD I APPLY TO HAVE A MENTOR?
Having a mentor is a nice way to get in touch with Polish students who can introduce you to the Wrocław student life. Your mentor, a Polish student, can pick you up from the airport/station, help you get through the first few days after your arrival and can help you with some practical things that need to be done. And of course, she/he can help you with all your questions you might have prior to or during your stay in Wrocław.
HOW CAN I APPLY?
In 2018, the new regulation on protection of personal data came into force, GDPR (General Data Protection Regulation). If you want ESN UE to contact you, you have to submit your consent regarding the use of your personal data – your name and email address – to the International Cooperation Center. If you have granted your consent, the ESN UE team will contact you via email. You may also contact ESN (
https://uewroclaw.esn.pl/en
). Any questions regarding the mentor programme can be sent to
mentor.uewroclaw@esn.pl
. After that you will be assigned a Polish student who will take care of you during your stay in Wrocław.