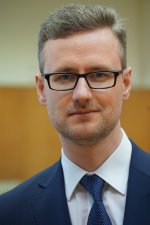 Professor Bartłomiej Nita
, Vice-Rector for Finance and Development at the Wroclaw University of Economics and Business received the prestigious
CIMA Excellence Award
in the subcategory
Best Practice: Academic partner
. The award ceremony took place on December 5 during
the 2019 CIMA Awards Night & Christmas Party
.
Personally, I am very happy with this award, but I see it as an award not only for me, as the coordinator of the CIMA Program, but also for my University - Wrocław University of Economics and Business. It is a great honor that our cooperation has been recognized against the background of the entire region of Central and Eastern Europe. At the same time, it obliges me and the University to maintain a high quality of the education process and further develop programs jointly with CIMA
- said the winner, commenting on the award.
According to prof. Nita:
The success of CBA studies results from two premises: first, post-graduate students receive a product that is 100% compliant with CIMA standards, they do not have to look for alternative forms of education; secondly, it results from the very high involvement of all lecturers who professionally transfer the knowledge and skills necessary to perform professional functions related to management accounting in global corporation. It is also worth adding that all classes are taught entirely in English, which contributes to a better understanding of the business language of accounting in the international environment. Participation in the CIMA Program for students of the WUEB brings a number of benefits, including the opportunity to gain qualifications at the same level as their colleagues abroad, e.g. in London and other places around the world. After completing the program, they receive a globally recognized certificate signed by CIMA. In addition, thanks to the good cooperation between WUEB and CIMA, this organization decided to exempt our students from exam fees and opt out of charging the subscription fee. Our students appreciate this very much and are increasingly considering taking the full path of education together with CIMA.
Professor B. Nita emphasizes that
employers strongly confirm that the CIMA syllabus takes into account the requirements of the labor market and global trends in management accounting related to digitization and new information technologies. The growing popularity of CIMA programs indicates that employers are convinced that students are acquiring qualifications that enable the processing of financial and non-financial information focused on effective decision-making at various levels of organizational structures.
To sum up, WUEB's cooperation with CIMA gives measurable benefits regarding the possibility of educating students according to the highest international standards, consistent with the expectations of employers and market requirements. The structure of the CIMA Program results from cross-sectional research conducted worldwide in international corporation. The award received by prof. Bartłomiej Nita will contribute to the WUEB's even more intense cooperation with CIMA, for the benefit of our students.
Congratulations, Professor :)
Photo: CIMA Poland