University of Finance and Administration, Prague
invites you for
International Summer Program 2019
. The main topic of the program is International Business and students will be able to gain 3 ECTS credits.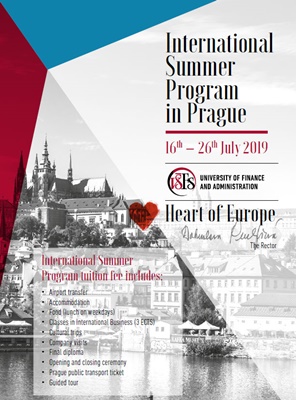 Why apply for the International Summer Program in Prague?
Experience in organizing summer and winter programs since 2012.
The University is located at the heart of Europe
The Czech Republic is one of the safest European countries
Students will be able to obtain 3ECTS credits
International Summer Program will take place from 16 to 26 July 2019. At the beginning of the program, students will attend the Official Welcome Ceremony and a lecture about Czech and European History and Culture. The next 4 days will be filled with lectures about International Business taught by internationally experienced Faculty members. Students will attend professional visits in local and also international companies, explore the beautiful city of Prague, gain international experience and participate in many other activities. Students will also go on a cultural trip to city of Czech Republic UNESCO World Heritage Site – Kutná Hora, where they will explore the history of silver mining and production of first Czech coins.

For more information, please see International Summer Program
brochure
.
TUITION FEE
The total tuition fee is 1 250 USD
Early birds by 31st March for 1 150 USD
The fee includes: accommodation, breakfast, lunches (on weekdays), airport transport, Prague public transport ticket, in-class teaching, 3 ECTS, final diploma, company visits, 24/7 support, sightseeing tours, cultural trip etc.  
Flights and insurance are not included.

TO APPLY
Visit the website and submit the online application form.
APPLICATION DEADLINE
15th May 2019