The London School of Economics and Political Science
informs about two exciting and innovative international summer schools that LSE will be offering in 2019 with
the University of Cape Town (UCT)
and
Peking University (PKU)
.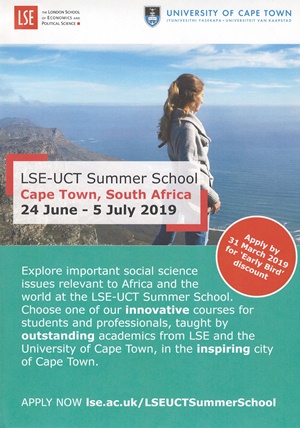 The
LSE-UCT Summer School
will be held in South Africa
from 24 June - 5 July 2019
. This year, it offers seven innovative courses across the social sciences which are relevant to Africa including courses in
African Studies
,
development
,
economics
,
geography
and
international relations
. Three new courses for 2019 are offered, including
Creating High Impact Businesses in Challenging Environments
,
Foundations of Behavioural and Experimental Economics for Developing Countries
and
Sub-Saharan Africa in the 21st Century: A Continent in Transition
. 99% of our attendees would recommend the Se-UCf Summer School to a friend or colleague.
More information including fees and details of how to apply can be found online at
www.tse.ac.uk/LSE-UCTSummerschool
.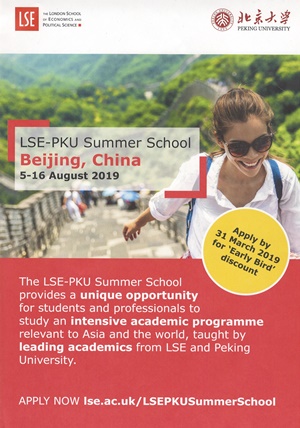 Secondly, the sixteenth
LSE-PKU Summer School
will be held at Peking University in Beijing
from 5 - 16 August 2019
, with thirteen courses from across the social sciences. Over these two weeks, participants will undertake an in-depth examination of ihe important issues facing China and the world today, across a range of subjects including big data, economics, finance, geography, government, law, management, public policy and society. All courses are taught in English. WL are offering three new courses for 2019, including Human Resource Management in Multinational Corporations: A Focus on Asia, Policy Innovation in Contemporary China: From 'Big Society' to Social Credit Scores and Public Economics: A Developing Asian and Comparative Perspective. We will also be offering a two week pre-sessional Chinese language course. In 2018 the LSE-PKU Summer School attracted over 480 global participants.
More information including fees and details of how to apply can be found online at
www.lse.ac.uk/LSEpKUSummerSchool
Both summer schools are university-level programmes which are attended by a combination of university students and graduate professionals, which makes the classroom discussions wonderfully diverse and the networking oppoitunities unparalleled. Both programmes are academically challenging and delivered intensively over a two week period with 48 contact hours, usually comprising 36 hours of lectures and 12 hours of small group tutorials. Lectures are delivered by outstanding faculty members from LSE, UCT and PKU, and teaching support in the tutorials is provided by experienced PhD students.
Both programmes also offer an 'Early Bird' discount for applications received by 14 April 2019
. (please note: the attached marketing materials suggest a deadline of 31 March, but great news - we have decided to extend this!)
If you have any questions, would like further material or have any suggestions for the programme, please contact us at
academic-partnerships@lse.ac.uk
.