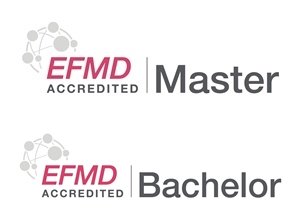 The Finance Program offered at WUEB has obtained the prestigious EFMD (formerly EPAS) accreditation for both degrees, i.e. bachelor and master degrees for the next three and five years respectively. The program obtained previous accreditations in 2015 and 2018.
Thanks to this accreditation, we've found ourselves in a prestigious global group among 89 universities (from 35 countries). This elite accreditation is held by 161 programs. Currently, we are the only finance program in Poland accredited by EFMD, as well as accredited by ACCA and CFA (triple accreditation).
EFMD Program Accreditation covers all aspects of program implementation: from the institutional, national and international environment, through its design, implementation, results and impact, to quality assurance processes. EFMD accreditation emphasizes academic discipline, practicality, the internationalization process as well as ethics and sustainable development.
The Self-Assessment Report was submitted to the EFMD Programme Accreditation Committee on February 1st, 2020. The report was prepared under the chairmanship of dr hab. Katarzyna Kuziak, prof. UEW, the Project Director, and dr hab. Magdalena Chmielowiec-Lewczuk, prof. UEW, the Project Coordinator. On October 26-29, 2020, the Accreditation Committee have visited our University on-line (due to the pandemic situation).
On January 25, 2021 the EFMD Accreditation Council has made a positive decision to grant the EFMD Programme Accreditation to the Finance Programs run at the Wroclaw University of Economics and Business.
---
EFMD Programme Accreditation
is the leading international system of quality assessment, improvement and accreditation of business and/or management degrees and courses, including face-to-face, blended and online provisions. It constitutes a benchmark for what is considered an internationally recognised and peer-reviewed programme.