The Wroclaw University of Economics and Business received IQA CEEMAN International Quality Accreditation on March 8, 2017. The accreditation was granted for six years.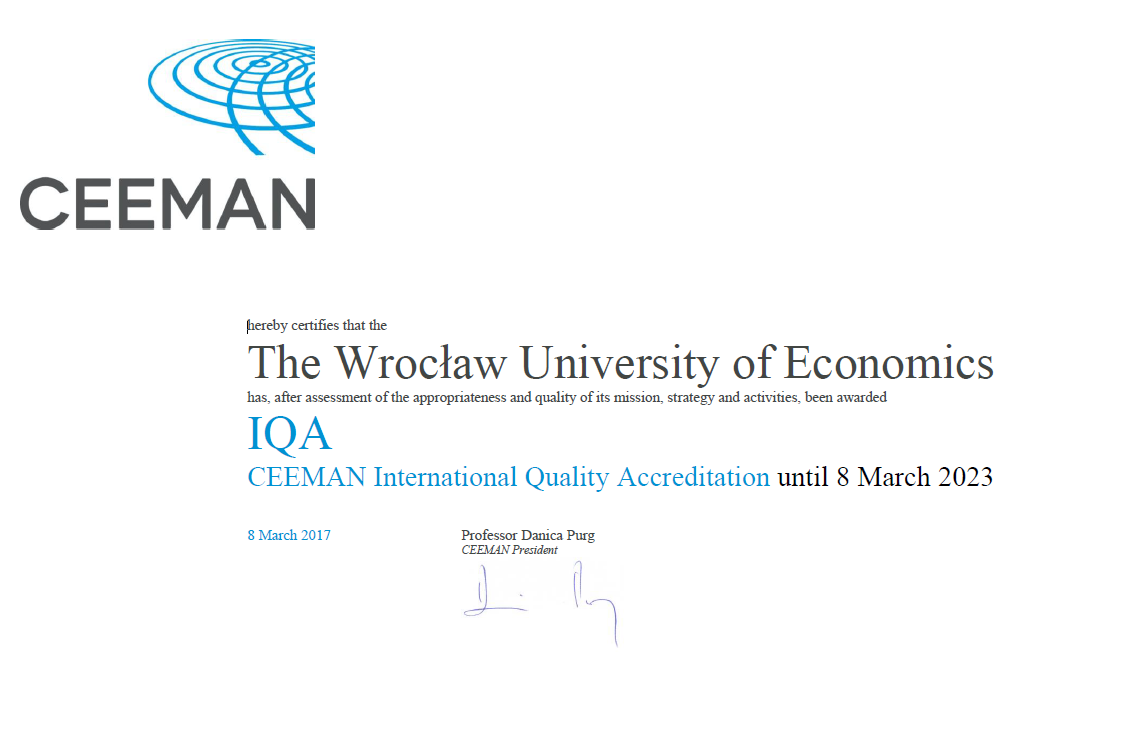 The Accreditation Committee, which visited our University on January 10-12, 2017, emphasized the high quality of education, a comprehensive approach to meeting the needs of our students and enriching their overall academic experience. The Committee highly appreciated the involvement of students in scientific organizations and science clubs. In the opinion of the Commission, graduates of the University are highly valued on the labor market, both by local and regional employers as well as by multinational companies. According to CEEMAN experts, our University is characterized by a strong research culture and admirable, significant achievements and extraordinary scientific and research abilities of its employees. Members of the Committee appreciated the significant progress towards internationalization in the last years in many aspects of the University's activities. It is now pursuing ambitious yet realistic plans to further enhance its international reputation.
"Receiving the certificate means that we have been granted a credit of trust by this organization (CEEMAN). Skilful use of this credit, or even the advantage of accreditation, opens doors for us on the international arena. More respected and important scientific and research units in the world will want to cooperate with us. The best evidence of this is the fact that after receiving the accreditation, we were invited by other certifying organizations to cooperate."- prof. Bogusława Drelich-Skulska, Vice-Rector for Accreditation and International Cooperation emphasizes.
Benefits of CEEMAN IQA accreditation
For management education instiutions
CEEMAN IQA provides international acknowledgment that the accredited institution delivers management education and engages in research which is not only excellent by internationally recognized quality standards but well adapted and relevant to the customers and markets in which it operates. It demonstrates in particular a commitment to continuous improvement and innovation as well a commitment to responsible corporate and leadership practices.
CEEMAN IQA accreditation peer review teams have world-class expertise and experience. They may also provide advisory support on how institutions can continue to enhance the quality and relevance of their management education offerings.
CEEMAN IQA recognition helps to strengthen the institution's competitive advantage and positioning on national and international levels. It facilitates additional marketing communications to fully capitalize on these advantages. Here support is available from CEEMAN IQA Advisory Services, if required.
CEEMAN IQA accredited institutions benefit from increased cooperation with reputable and trustworthy national and international business and academic partners.
CEEMAN IQA accredited members are invited to join the network of CEEMAN accredited institutions. This unique community serves as a channel for the sharing of knowledge, good practice, and experience among CEEMAN IQA members and provides an inspirational platform for further initiatives.
For students and participiants
CEEMAN IQA is a confirmation that the accredited institution attended or under consideration by students/participants meets internationally recognized quality standards and is also responsive and relevant to attendee needs.
CEEMAN IQA signifies that the accredited institution is recognized as a leading provider of education in its market and enjoys a strong reputation among potential employers.
CEEMAN IQA is a confirmation that the management, faculty, and staff of the accredited institution are committed to continuous improvement and innovation in all aspects of education and services related to student/participant needs.
CEEMAN IQA is a verification that the accredited management education institution is very effective at preparing students for the world of work. Its graduates are equipped with appropriate skills, competences and knowledge to become respected leaders capable of responding to the development needs of their local and wider environment.
For employers
CEEMAN IQA is a confirmation for potential employers and executive education sponsors that the accredited institution provides not only excellent but also relevant education to meet corporate needs. In particular, accreditation verifies a commitment to continuous improvement and innovation, and to responsible corporate and leadership practices.
CEEMAN IQA indicates that graduates of the accredited institution have acquired the intellectual capital (new knowledge, skills and competences) and social capital (networks and personal qualities of leadership) to qualify them for the responsibilities they will assume. They have a solid basis in both functional management and the more integrative capabilities required as their careers advance.
CEEMAN IQA is proof that the accredited institution has the potential to be an outstanding corporate partner for businesses seeking management development and consulting services.
For educational authorities
CEEMAN IQA complements national or regional accreditation with internationally recognized accreditation. It provides assurance to an institution's national and regional stakeholders that the institution not only meets internationally recognized standards of excellence but is also adapted and responsive to the markets in which it operates.
CEEMAN IQA is an assurance to authorities who are asked to accredit an institution under their jurisdiction that the institution has already been rigorously evaluated at an international level.